5 Trends from Skift Global Forum 2017
Posted in Insights
From Overtourism to Permanxiety, here's what travel leaders talked and tweeted about.
We Twitter-stalked this year's Skift Global Forum Conference — aka, the "Ted Talks of Travel." Two days of travel industry leader and CEO talks fueled our FOMO and revealed 5 travel trends, all in 140 characters or less (we look forward to next year when they'll have 280).
[caption id="attachment_20001" align="aligncenter" width="790"]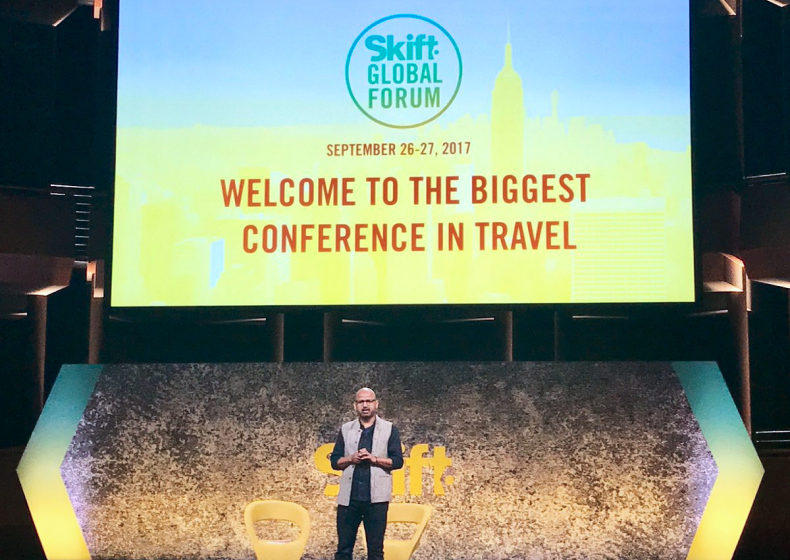 Image credit: Beth Marino of Fox World Travel[/caption]
*1. Technology's only as good as the humans behind it.
*
No matter our world's increasing demand for digital solutions, people continue to crave personal interaction. They refuse to choose between high-tech and high-touch.
*@livingtheproof: "Technology is an experience enhancer, not a substitute." ~CMO @MGMResortsIntl, where avg day=3000 guests checking in/out #skiftforum*
The more you know about your customers, the better you can personalize their experience.
*@jacq_hampton: "Ask the why not the what - it's how @netflix mastered recommendations and a great lesson for others." says @jeriad @Accenture #skiftforum*
**2. Loyal guests want to know you're loyal to them, too.**
Loyalty is still a big deal for consumers. If they continually choose you over your competitor, they want to know it matters. But it's not so simple as throwing in a free night here, or an upgrade there. It's about creating an anticipatory experience for the people who keep coming.
*@createabond: .@hiltonhotels CEO: When customers have direct relationships w/ their brands, they get better value and experience. #SkiftForum #CX #Loyalty*

@lolevy: Legroom and loyalty equals differentiation for #DeltaAirlines #skiftforum
*
3. Social sells and destinations pay.
*
Travelers live through platforms like Instagram and Facebook, sharing their experiences as they're happening. And it's a powerful thing. Their photos inspire their followers to be seen in the same spots, leading to a phenomenon known as "overtourism."
*"Travel is now completely accessible. The globe has shrunk. It is at your fingertips." -@JulieHoffmann*
There are no signs of this slowing down. Iceland, once an undiscovered gem, is now the hottest destination, says TripAdvisor CEO, Stephen Kaufer. With the rise of AirBnB, Expedia's acquisition of HomeAway, huge growth at Vacasa, and new concepts emerging that may best them all, there are more ways to travel and yet feel like a local.
*@deannating: "The power of the @Airbnb model is that we can be everywhere," says @nathanblec at #SkiftForum*
**4. It's hard to see the world when the world is in peril.**
With new U.S. travel bans, catastrophic hurricanes and earthquakes, and terror attacks at tourist attractions, the travel industry is battling a sense of "permanxiety." Travelers may want to see the world, but it doesn't exactly feel like a welcoming place.
Talks mentioned a need for honesty and optimism, noting marketers "play a vital role in helping to shape a destination's reputation against the context of uncertainty and narratives they can't control." (from: https://skift.com/2017/09/26/tourism-leaders-plot-strategy-in-an-age-of-permanxiety/)
*@djpeltier: .@expediainc CEO weighs in on travel ban: "It's not just a ban on people from the affected countries. It's a ban on the world." #skiftforum*
**5. People want to stay active and feel local. ** Today's travelers are active. They want to experience the cities they're seeing, and feel like a local while doing so. There's sightseeing, sure, but it's increasingly about tours and activities that provide memorable (and shareable) experiences.
One example is AirBnB's aptly named "Experiences," which rolled out late last year and offers a curated tour or experience with locals who share your interests. It's since expanded from 12 to 40 cities. Expedia's new CEO Mark Okerstrom commented on their likelihood of prioritizing a similar concept for their users.
*.@Airbnb's @nathanblec: 'We've had tens of thousands of people apply to provide Experiences. We've only accepted 3,000.' #SkiftForum*
So, those are some top hospitality trends as according to our Twitter feed. Thank you to all the engaged attendees who kept Skift Forum followers like us informed. If we saw it on social, we were as good as there, right?
Want more trends, tips and insights? Subscribe to FINE's free semi-regular newsletter for the best brand and digital news you can use.
SaveSave