12 Days of FINE. Day 3: Now With More Steve
Posted in Insights — Dec 03, 2014
Not too long into the company evolution, a certain Steve Fine, Principal and Client Integrator, jumped in to drive new direction in technology and, of course, wearables.
What were you doing before FINE?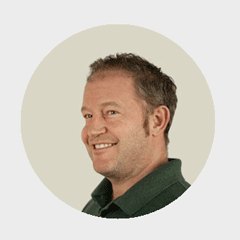 Completing a master's program in medical science and working part time in a genetics lab. My income came from serving filet mignon.
What made you decide to join FINE?
The realization that it was another year before I would start medical school, and then another 8 years of professional studenting prior to my first day at work. Kenn talked me into coming to the West Coast, and I used it as an opportunity to get my residency in California so I could go to medical school with the pretty people.
Then instead I came here to run wearable packaging programs and sell print design to the pharmaceutical/biotech industries.
*What was the deal with wearables?
*We had a very sizable custom wearables division for many years in the 90s with clients like The Golden Gate National Park Association, and tech companies. Our biggest win was the custom design, cut, and sew of Bebe's revolutionary "baby doll" t-shirt line. At their peak, these shirts were everywhere – they manufactured 15,000 a month. You're welcome, by the way.
*Did FINE's vision shift once you joined?
*The web became the way you presented yourself in Silicon Valley. It was a requirement for a company there to be digital. It was a natural extension for us.
Marketing people didn't trust web developers back then. There was a belief that web people would ruin high-graphic standards. Even then, FINE was a sophisticated group. We did responsible brand stewardship with market positioning to become a hybrid firm - through both print and web.
*What made you the guy to help drive technology?
*Aside from the science background, I was a total technology buff. And I was a fanatical fantasy football guy, before there was fantasy football in digital. When the web came around, HTML became wildly popular, so I became familiar with the basics of web and would build out entire football team websites, complete with game screen captions. Waste of time, maybe. Nerd alert, definitely.
*What were FINE's defining characteristics in its first years?
*Very relationship-driven, family boutique with a husband and wife team at the helm and a buttoned-up midwesterner managing a group of web developers. That was when FINE first demonstrated the tendency to always be trying stuff in web browsers that made developers want to pull their hair out.
We'd do stuff like a 3D illustrated, single-theme video game called the Alien Babymaker where you could grow and terminate alien babies in their native cave. It was 100% coded in Javascript in 1997. Take that, Internet.
*When did things begin to shift in the creative world, and what was FINE's reaction?
*Flash was the shift. Adobe had the plugin so you could put more refined presentations in the browser with easy behavioral controls, and they would look the same in IE and Netscape - that was revolutionary at the time. Especially for folks that weren't hardcore web developers.
Far more creative-centric firms started entering the web game. People were building businesses on the web, and others began doing fun, animated sites for marketing. Then there were people in the middle with brand-marketing sites with tasteful animation and sensible business-driven technology. That was our sweet spot. We were right there where people needed savvy design, visual interactions to story tell and enough tech to update their website content and manage simple business practices.
*Any anecdotes that double as defining moments throughout the past 20 years?
*Around 2001, FINE walked into The Coppola Companies, sat in front of the Coppola team and told them FINE would build a comprehensive digital ecosystem that included separate sites for each Coppola consumer brand, a site specifically for trade/media and even a custom online auction website. All of these would be powered by a centralized application (built in Java J2EE). The result would be a combination of both all-Flash and HTML-based websites, some with extensive user:password permissions, and all powered by the same central web-based application. When FINE got the account, we had to figure out how to do it, which we did, and it changed our course.
*If you would have been asked 20 years ago where FINE would be today, how would you have responded?
*I would've said that FINE would have its own clothing, stationery, and gift lines. It would've been a tangible product design company, something like Oh Boy! Design Co. was moving toward at the time. Though, I'm glad we didn't go that way for obvious reasons.
How would you describe FINE now?
Still pushing things as though we're a diamond in the rough, even though we're so established. We've always outperformed our foundation and never settled in our work.
To read more from Steve, and to learn where he thinks FINE is headed in the next 20 years, make your way back to Mingle on the 12th Day of FINE.