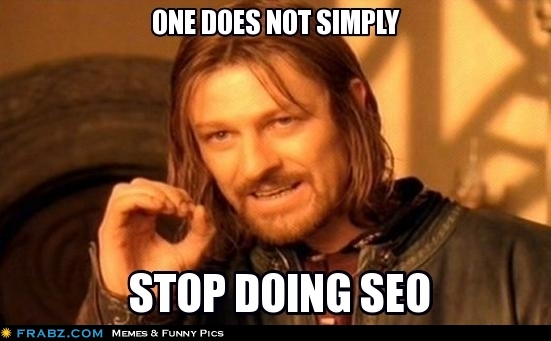 About a year ago, I wrote a post all about why You Don't Need SEO unless you have quality content to support your efforts first.
So what's prompting me to take up the cause again with my old pal Boromir? Reading articles like this one, which gleefully proclaim that "Google favors Facebook shares, 'likes,' and comments more than keywords" and that "top keywords take a back seat to tweets and Facebook endorsements when it comes to Google search results, new research reveals."
And although people have been predicting the Death of SEO ever since 1997, it doesn't stop Forbes from saying this again like it's breaking news, alleging that "Google is in the process of making the SEO industry obsolete, SEO will be dead in 2 years."
SIGH. Allow me to provide additional background:
1. SOCIAL SHARES MATTER MORE THAN SEARCH-FRIENDLINESS.
A scary piece of misinformation, this article alleges that because social shares correlate highly with good rankings (they're looking at rankings instead of actual traffic?), social shares are now more important than "keywords".
Correlation does not equal causation. Social shares, in and of themselves, don't necessarily help with search rankings unless we're talking Real Time Search. Otherwise, they need to be accompanied by a killer backlink profile that improves your domain authority and trust (aka PageRank). In this case, social shares obviously also correlate with a ton of backlinks, and it's the backlinks that affect rankings. Not the nofollowed Facebook or Twitter shares. And let's not forget that ultimately, it's the quality content itself that's the major underlying force for both backlinks and shares.
If you're confused about how social shares and brand power work with Google's algorithm, I suggest you watch these two videos from Matt Cutts:
2. SEO IS DEAD. YOU ONLY NEED SOCIAL, PR, AND GOOD CONTENT.
Yawn. People have been saying SEO is dead for 15+ years. So here we go again: you do not *only* need social, PR, and good content.
Do you know what Switchboard Tags are? Are you prepared for the huge upheaval that's coming to Google Shopping in the fall? Do you know how Rich Snippets and RFDa work versus Microformats and Schema.org markup? Have you gotten Bing and Google's latest advice on the preferred way to design your mobile website? Is your subdomain tracking code working properly? Can you get rel=author tags to display in SERPs? What on earth is going on with Google Local + lately? And did you know that Google may be changing the format of your Title Tags?
In my world, that's SEO. It's definitely not obsolete. I'm not talking about keyword stuffing, link spam, or black-hat snake oil crud. I'm talking about cutting edge techniques that can make your website shine in the search engines.
Ignore SEO at your peril. Ignore Social Media at your peril. Ignore Quality Content at your peril. If you're a smart marketer, you'll understand that in order to drive the most traffic, you need a holistic approach that embraces more than just one channel.
Written by Sarah Mackenzie
SaveSave
SaveSave
SaveSave