You've done all the keyword research. Created a great structured account and written beautiful ad copy. Identified and created highly optimized landing pages. Conversions are through the roof and you can't do anymore to optimize your AdWords campaigns further, right? Of course the real answer is no, there is ALWAYS something you can be doing. But one aspect that is often overlooked is the use of day parting your ads. But where to find this information?
If you're using Google Analytics, and have it properly linked up to your Google AdWords account, you can easily find this data. It's even easier if you're using the "new" version of Google Analytics interface. This information has been available in the previous version of Google Analytics for a little while now, but was never all that easy to get to. By the way, the quick way of finding out if you're using the new vs old version of Google Analytics is to look in the upper right hand corner of your browser, and it will say "new version" or "old version". Clever, no?
If you're using the old version, you can view this by going to Ecommerce –> Conversion Rate. Select your date range and then click on the clock icon. You'll then need to sort by a graph and you can look at certain metrics such as visits, conversion rate, revenue, etc.
However, if you're using the "new version", it's easier than ever to find this. Google must have figured this was a pretty important metric (which it is) and made it as easy to find as two clicks.
First, click on "Advertising" on the left side of your dashboard: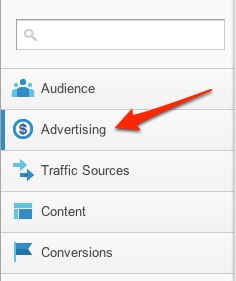 Next, expand the AdWords section within the Advertising section. You'll then be presented with a variety of other options. Select "Day Parts":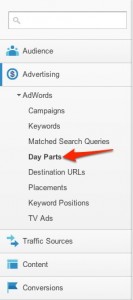 At this point, I'd suggest adjusting your date range to get at least a few months worth of data, provided you have that. In this example, we can see that the bulk of the traffic starts at 8 AM though midnight.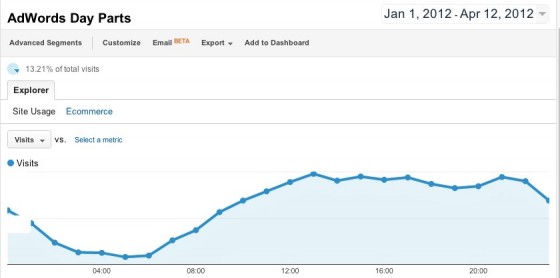 However, if you select another metric, such as Revenue for the same period, we can see that between the hours of 1 AM and 8 AM – there was ZERO revenue produced, yet ads were running and costing this particular account ad spend cost. Also, between 5 PM and 7 PM, where traffic was at it's peak, there was also zero revenue.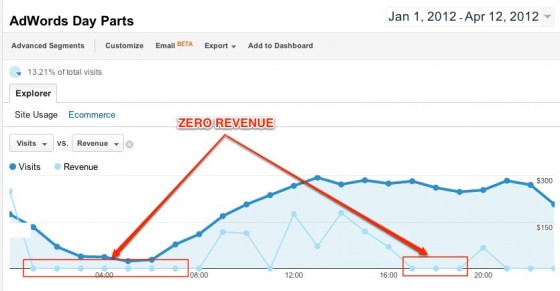 SO NOW WHAT?
If you find yourself in this situation with your AdWords account – you have two options. You could pause specific ad campaigns or the entire account completely during that period of time is driving little to no revenue. This is easily done in the AdWords Interface under  Campaign Settings. Or you can lower the bid by a certain % during that same time period. Some folks want to be visible regardless of the time of the day, but if that traffic is costing them and producing little revenue, you might consider lowering your bid during that time period.
Next Steps
Take a few moments and look through your new Google Analytics data and ensure that you're getting the most out of your advertising dollars.
If you'd like more help analyzing your Google AdWords performance and Google Analytics data, we'd love to talk to you!  Contact us and let us help you optimize your campaigns.
Written by Nick Perez.