There's been a fair amount of uproar in our admittedly rarefied world about not only the possibility, but seeming probability, of negative SEO. Negative SEO (also called Link Bombing, also called Rogue Element Initiated Electronic Pariahfication (OK, I made that up)) is the apparent ability of an online competitor to create (either via simple application or purchase) an influx of bad links with keyword-heavy anchor text pointing at a competitive site, thus impacting their competitor's ability to rank and, potentially, attracting Google's Eye of Sauron spam detection and instant unmerciful obliteration by fire.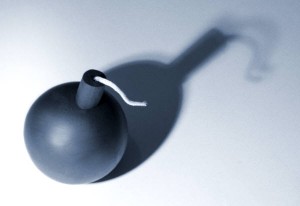 The hubbub began with a supposedly innocuous Matt Cutts' statement (why Mr. Cutts, by now, doesn't realize he can no longer make an innocuous statement is beyond me) in which he said, basically, that Google was going to begin to focus on "overoptimization." Given that they'd already addressed issues such as keyword stuffing, link farms, article farms, crappy copy, and the like, well, we should be in a time beyond overoptimization, no? So, what? Is? He? Talking? About? What does that mean, man?
Add to this the strange tale of one Mr. Dan Thies, who via Twitter congratulated Matt Cutts on a recent Google update that hammered blog networks. Some folks (I'm guessing those who run/use blog networks) didn't like this, and as a result decided to take down Dan's site. Dan got an unnatural link notice in Google Webmaster Tools, then his site tanked in the SERPs. Oh, but also, he began using a new template. The waters are sufficiently muddied. Was it the template, or Link Bombing? Aaron Wall seems convinced it was the latter.
But really, how could this be? Google has long said that while bad incoming links won't help you, they really can't hurt you. Or, at least, they're not going to make it easy for someone to hurt your site using that tactic. But then, they say participation in link schemes can hurt you. Huh? Plus, c'mon. If bad links can affect your site, why, someone (with a fair amount of free time on their hands, as is seemingly common with such folks) could get mad at you and aggressively build a bunch of crappy links using spammy anchor text, point them at your site, and sink it. Not fair. Not fair in an age in which there are apparently legions of people just waiting to get pissed off about something, anything. Are we all, now, walking on glass? Why would Google let this happen?
Have they, even? Rand Fishkin, often the SEO industry's voice of reason, sure doesn't think so. He's so convinced that negative SEO isn't a thing that he's offered up both his sites (SEOMoz.org and RandFishkin.com) and said "do your worst, freaky hacker trolls!" And if anyone can take it, it's Rand. Thing is, both his sites are crazy-strong. It'll be interesting to watch, but it's not as though it's a mom and pop site bearing the brunt.
The worst aspect of this situation/nonsituation is the willingness, and even glee, of some folks in our industry to turn on others, to throw away any pretense of ethical, responsible behavior in order to get what they want. SEO is and has been, unfortunately, defined by the actions of our sleaziest brethren. Whatever way this turns out, the fact that someone's even giving negative SEO a shot is no help.