Yeah, I know. You walk into a department store, and it's as though they're trying to put your life in hyperdrive. You can't even enjoy summer because "Back to School" promotions start in mid-July. Major holiday seasons begin the day after the other holiday ended. You start hearing "Silver Bells" the day after Halloween. Are we allowed to actually experience a season before we're being told it's over? It's horrible, and I hate it too.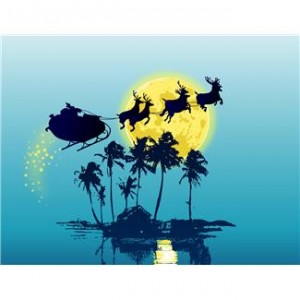 This is why I write this post with a hint of remorse. (Just a hint, though.)
I'm going to make this as painless as possible, and, much like tearing off a band-aid in one quick and violent tug, that involves an initial degree of shock:
If your online business is in any way dependent upon the winter holidays (Christmas, Hanukkah, Kwanzaa, etc.), and you're planning on making major changes prior to said holidays, you better make them by the end of August. September is pushing it. October is downright scary. November is a bobsled on a volcano. December – you're freaking crazy. Not funny-crazy – bad-crazy.
I know it can be difficult, especially if you're following the dictates of a quarterly fiscal schedule. Third-quarter expenditures are often expected to benefit the third quarter. This schedule has resulted in online stores trying to launch a brand-new store and shopping cart the week before Black Friday. I've seen this happen, and it's ugly. Orangutan with mange ugly. What worked great in a development environment miserably fails in the wild. Redirects that were supposed to be put in place for every URL don't work. Organic traffic falls off a cliff. The cart malfunctions and automatically appends same-day shipping to every order. "Whatever can go wrong, will" is a cliche for a reason.
This, of course, is a worst-case scenario intended to prove my point, but regardless, even if you've had the luxury of properly applied strategic SEO prior to launch, and you've run multiple purchases through your test environment, there's likely to be something unexpected that pops up post-launch. You want that to happen in September, not late November. You want that to affect one or two sales, not hundreds.
In addition, if you're planning to ramp up your online presence prior to the holidays, plan accordingly. If you know you need visibility built around a new product, start doing SEO now. Investigate the landscape, identify your competitors, develop your strategy, find out what potential customers are searching for and figure out how you can get your site in front of them. Give yourself a chance to develop and fine tune results. As you're gaining prominence in the engines, plan your social media campaign accordingly. Start talking about your product. Develop the conversation. Get people excited.
You're maybe on a boat. Maybe you're swimming. Maybe you're lounging in a lawn chair. Maybe you're dragging your feet on your way to work because it's just too damn nice out. Chances are the last thing you want to think about now is winter. So I'm gonna get all grandpa-y on you: a fair amount of sweat and blood now can prevent a deluge later, when you can least afford it. The ant and grasshopper thing. Etc. Life ain't all unicorns and ice cream cake. Get to work, ya lazy bum!
You can thank me later.