By now you've probably had a chance to check out the latest round of changes to Facebook's user interface – and likely read/heard plenty of opinions about the new look. Facebook's quest to display content relevant to users' interests and usage patterns has resulted in yet another update to the News Feed. The resulting design is a bit more, shall we say, busy, for a service that's never been too strong on design.
But for a moment, let's put aside purely aesthetic considerations – things have gotten much more cluttered on Facebook. And let's go with the question we'd ask as digital marketers: "How does this effect brands and their ability to engage?"
Before Wednesday's rollout, Facebook announced the changes with a post on its blog on Tuesday, explaining that, "When you visit Facebook, you should see the things you're most interested in…" Of course, we'll never know exactly how Facebook's algorithm determines what we're interested in, but a simple explanation is that your own interaction drives the content you see. When you like a link on a page, comment on a friend's photo, or share others' content on your wall, Facebook factors each occurrence into which content is displayed in your News Feed.
So how do the newest changes affect brands and their visibility on Facebook? Let's start with a look at what's new.
Changing Content
If you haven't logged into facebook within a few hours (or more), the first thing you'll see are "Top Stories." As explained in the Facebook blog post referenced above, the updated News Feed displays content based on numerous usage factors, including how often you use Facebook and the length of time since you last logged in.
…it's not just the people you hear from that make your News Feed interesting. It also matters how much you visit Facebook. If you haven't returned in a week, you may want to see a summary of top stories first. If you've already visited several times that day, you probably care more about recent news.
So who defines which status updates, photos and links are Top Stories? Once again, you do. Your own usage dictates which friends and pages are "most important" to you. The more you interact with a friend or page within Facebook, the more likely their content is to be displayed in your "Top Stories" feed.
You can also add content to Top Stories by mousing over the gray triangle in the upper left corner of the story…

… or add or remove the post from Top Stories – or from the News Feed entirely – in the pull-down menu in the upper right corner of the story: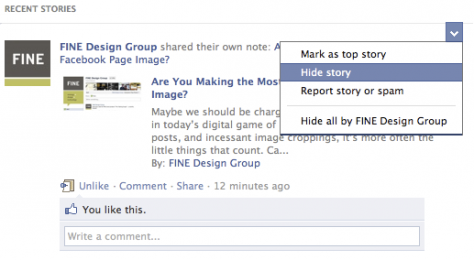 As you remain logged in, or visit multiple times within a short period of time, your News Feed becomes populated with Recent Stories. The option to switch between Recent Stories and Top News is gone – at least for now.
Takeaway #1: Drive engagement: Bottom line, brands must drive engagement as much as possible to ensure new content is seen. Posting a link to a blog post is great, but adding a summary of the topic, and perhaps even asking users to read it, might provide enough incentive to get additional clicks. The more clicks you get, the more likely your page will appear in users' Top Stories, leading to greater visibility and hopefully, a better relationship with your brand.
The Ticker
Perhaps the most significant change in the News Feed's functionality is the addition of the Ticker, a scrolling feed of status updates and notifications that enables users to interact in real time. Here's Facebook's descripton:
Ticker shows you the same stuff you were already seeing on Facebook, but it brings your conversations to life by displaying updates instantaneously. Now when a friend comments, asks a question or shares something like a check in, you'll be able to join the conversation right away.
If the content you post to your page doesn't make it into a user's Top Stories, they might catch it here as it scrolls by. When someone likes content on your page, their friends see the notification in real time.

When the user mouses over the notification, the window expands to allow immediate interaction.

Takeaway #2: Increase posting frequency: Facebook wants the conversation on their platform to be held in real time. Sure, the chat function is great for one-to-one communication, but the Ticker enables users to comment, like, and interact with all content types as they're posted. The Ticker's scrolling feed also allows users to interact with your brand much faster – and more often. If the Ticker stays, which we have to believe it will, brands must adjust their frequency to match the changing usage habits of users.
Photos
Photos posted to pages appear to have gotten the short end of the stick with this update. User photos are now presented in a larger format, with thumbnails of additional images in the album posted along side: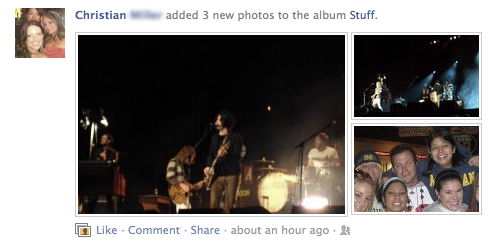 Photos shared by pages appear in the News Feed as a smaller-sized thumbnail: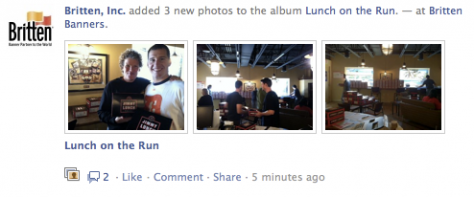 Takeaway #3: Post multiple photos: You want your photos to be seen in the News Feed. As long as photos posted to pages are smaller than other content, you'll need to adjust your posting strategy to ensure maximum visibility. Rather than posting one image on its own, post two or three related photos in succession, or create and share a new photo album. This group of images will stand out more in the News Feed, increasing the chances of the user deciding to view them.
More changes to come?
Just as we're beginning to understand and adjust to Facebook's latest update, Mashable.com tells us that more changes are on the way, with a launch expected at this week's f8 conference. Early indications area major re-design of user profiles. Will pages be next? Only time will telll.
In the meantime, let us know in the comments what you think of the News Feed update. Has it changed your approach?