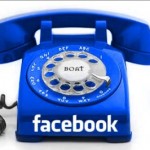 Select companies are being chosen to participate in a Facebook call tracking study and are being offered $500 in Facebook advertising to simply change the phone number on their business page to an alternative phone number. Facebook is conducting the month-long study to better understand the number of calls being generated from business pages, which are becoming more and more important to the overall marketing strategy of companies engaging in social media.
The study is by invitation only, and if your company is selected you'll receive an email that looks like the following: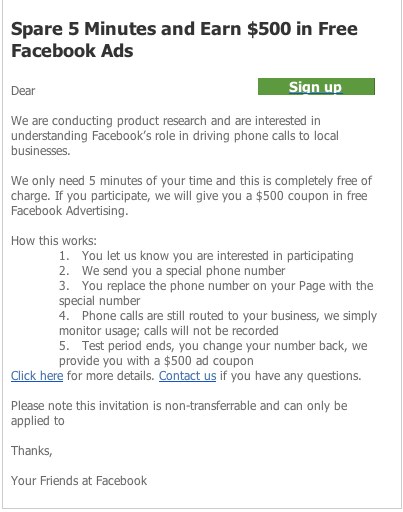 How does it work? Once you opt into the program, you'll be provided with a temporary phone number. It's basically just a virtual number that forwards to your regular phone number. So the user won't know any difference.  Facebook claims that they won't be listening or recording the calls, just logging the number of phone calls made to the virtual number.  If you're comfortable with that, and trust Facebook to route your calls for you, then it might be worth the $500 in Facebook Advertising credit that you'll get at the end of the month long trial.
Facebook hasn't actually said if they'll give businesses the data that they'll be collecting, but we're guessing that you might see it in the Insight Reports. We're also guessing that based on the success of this study, you'll see this rolled out to the masses. Will it be free then? That remains to be seen. The Facebook revenue monster keeps rolling, and this could be another way to add to their already climbing revenue numbers as they prepare for a rumored IPO.
The main downside to this study? When the month long study is over, you'll have to change your number back to your regular number, meaning that anybody that saved the old number will likely get a "this number no long exists" message when they try to call. Of course, most users will likely be savvy enough to go back to your website or Facebook page to get the updated number (does anyone use phone books anymore?) if that should occur.
Didn't get one of these offers from Facebook but still want to track the effectiveness of your Facebook page? We help clients everyday track and measure these results, and can provide your business Facebook page with a unique 800 number to track calls- or any other marketing effort for that matter. Contact us today and find out how we can help you measure your social media campaigns.
Written by Nick Perez.