I love a shopping bargain as much as I love cool design, so that makes me an instant sucker for Fab.com. Fab not only does a great job curating a selection of unique discount finds, but also of marketing their site, including the funky snail-mail letter I got in the letter this week with the envelope that said "HI." in big chunky letters. I'm not a big spender or anything (ex: I just bought some refreshingly non-dorky dog food bowls for $16), but still, the gesture was especially cute in light of my smallish shopping budget.
So here I am, continuing my love affair with Fab, when this email zips into my inbox: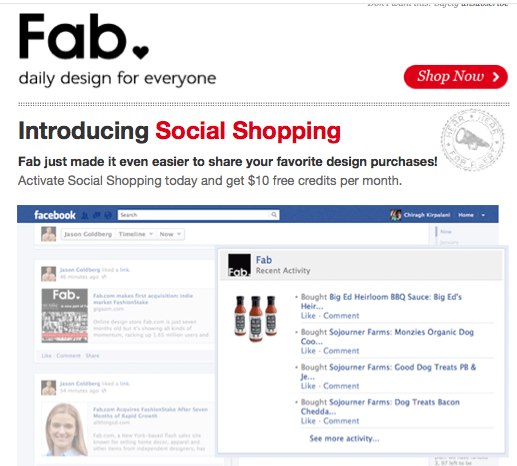 My first reaction? Sarah's brain = "What a cool idea. I get $10 a month to share my purchases, which amounts to $120 a year to spend on Fab.com. Mwa ha ha. Wait, does that mean I have to buy something each month? Not sure. Also, what a great marketing idea! Marketing, Marketing. Shoot. I should have already known about stuff like this. I should tell our eCommerce clients about this. I should…"
You get the picture. But then, with the recent horrific upheavals in everything we used to hold dear about search, analytics, and privacy, my self-preservation instinct set in.
What would it be like if Facebook turned into a constant stream of stuff everyone bought online? And you might not be able to turn it off the way you can a Spotify Feed? Yes, yes, I know that social sharing features are already heavily integrated in a lot of shopping sites, but automatic sharing of my purchases is more aggressive.
I might like to hear about what my friends bought on Fab.com, but other sites? Not sure. Facebook is already becoming more and more commercial, but hopefully they won't completely Abandon Their Users in the way Google seems to be doing. After all, it's not like Facebook thinks it's going to turn itself into a bleeping search engine the way Google is trying to turn itself into a social network, right? Um…
Fab.com already has an in-cart feature that gives you the option to earn points by sharing a recent purchase. This new Social Sharing feature takes that a step further – perhaps in a direction I'm not quite ready to take yet. I am also, personally, prolly too discrete to share all my purchases on Facebook. That being said, kudos to Fab for having a team that's exploring the boundaries of online marketing. All food for thought.
Written by Sarah Mackenzie.