Originally posted on our Big Daylight division blog, here's a look at the most social-est Superbowl ever.
While the Giants were the winners of Superbowl XLVI, much of the post game discussion focused on who won the annual "Brandbowl." Superbowl commercials are as important as the game itself for many, with brands investing millions to produce spots that stand out on advertising's biggest stage, and millions more for airtime during the telecast.
The annual parade of high-budget ads is entertaining, but especially noteworthy this year was how several major brands integrated social media into their message, hoping to extend the conversation with their customers beyond the television screen.
In the hour or so before the game, we started seeing a number of check-ins to "Super Swarm Sunday" on Twitter. Foursquare created a special event venue for the game and awarded the "Super Swarm Badge" to those who checked in. The promotion received an impressive 332,892 check-ins.
As more social media users turn to Twitter, Facebook, and other platforms to communicate with others during television events, expect to see more of this from Foursquare, including more from major brands.
Live-tweeting of TV events continues to grow in popularity, with the Superbowl landing two of the top three spots in Twitter's record book. Tweets escalated to 12,233 tweets per second (TPS) during the dramatic final minutes of the game, and 10,245 TPS during Madonna's halftime performance, placing these two Twitter moments at numbers 2 and 3, respectively, on Twitter's all-time TPS list.
Individual users weren't the only ones getting involved in the social atmosphere surrounding the Superbowl. Many brands sought to capture users on the spot, driving them to branded social channels rather than websites from their TV spots.
Perennial Superbowl advertiser, Annheuser Busch, ran two spots promoting Bud Light Platinum, a new product under its popular Bud Light label. Rather than drive traffic to its website, the ad presented viewers with a hash tag: #MAKEITPLATINUM, encouraging Twitter users to tweet about the new label and include the hash tag.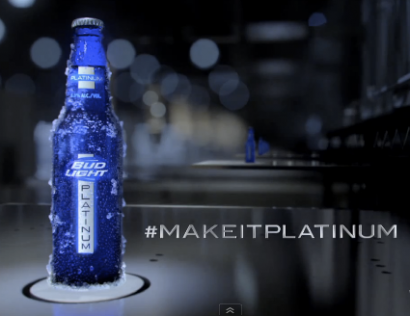 Later in the broadcast the Bud Light brand was used as a vehicle to promote a cause. "Rescue Dog" features a beer-fetching dog named, "Weego," who presents a cold Bud Light to anyone who says, "Here we go." At the end of the clever (and fun) spot, Weego is nudging a cooler along the patio next to the pool, which is decorated with a URL for the Bud Light Facebook page. The narrator encourages Facebook users to "help rescue dogs" by visiting the page.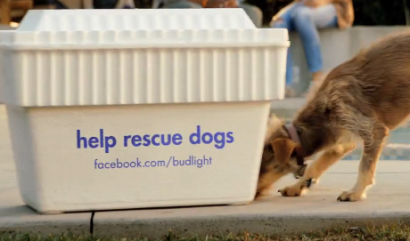 Upon arriving at the page, users are invited to like the page to meet Weego, who according to the copy in the page's welcome tab, is a "true rescue dog."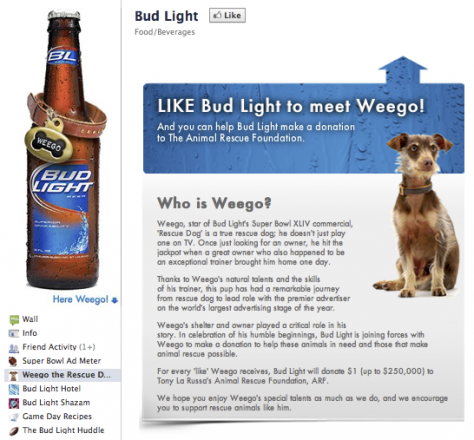 Samsung Moblie USA also sought to connect with social users through a high-budget Superbowl commercial. "Thing Called Love" begins with a not-so-subtle dig at Apple and its ultra-loyal fans, many of whom camp out for hours (or days) to get their hands on the latest Apple device.
When a passer-by begins using his Samsung Galaxy Note mobile device, the lead singer of the Brittish rock band, The Darkness, appears and breaks into song, touching off a sudden city-wide celebration of Samsung, complete with BMX stunt riders, zip lines and human cannonballs. Viewers are informed that "the party continues" at the company's Facebook page.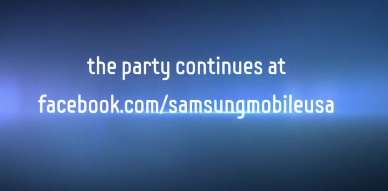 Upon arriving at the page, users are presented with a Twitter hash tag encouraging them to "#VOTEFORNOTE" using an online rating system called Superbowl Admeter.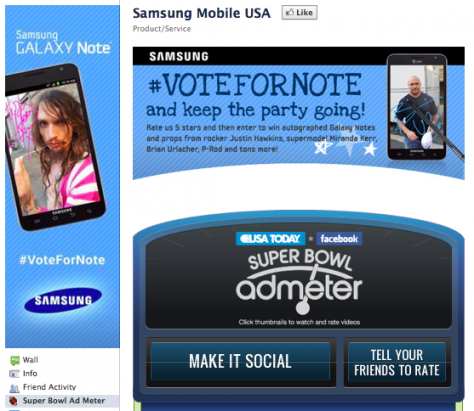 Imported from Detroit
For the second year in a row, Chrysler made a big splash with a 2-minute spot featuring the city of Detroit. "Halftime in America" continues Chrysler's "Imported from Detroit" campaign, launched with a stunning debut during last year's Superbowl, with a stirring narration by actor Clint Eastwood. While the ad was my favorite of the night (yes, I'm biased), I was even more captivated by a unique social component that followed it.
Chrysler and YouTube partnered to develop a custom landing page for the video on the YouTube website, accessed directly or via the Chrysler Facebook page. Visitors to the page could connect to a custom Web app via Twitter or Facebook with one click and track shares of the video in real time. I logged in via my Twitter account as was able to watch share after share appear on a map of North Ameria, all originating from my living room in Traverse City, Michigan.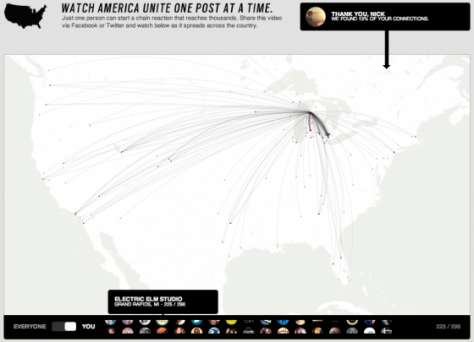 After a few minutes, the tracking stopped and a message appeared with the total number of shares resulting from my original tweet.

There were other examples of the growing interconnectivity of social media and major television events, a few of which you probably picked up on. What did you see that interested you? Did you connect with any brands as a result? Do you tweet or share thoughts and comments via another platform during major TV events? Let us know in the comments!