Unless you've been hiding under a rock, you will have noticed that the SEO community is in an uproar over Google's recent announcement that they are no longer showing all of your organic referring keywords. (Um, they are somehow tying privacy into this but I'm ignoring that aspect for now.) Instead, select terms will now be lumped into an alluring category called "not provided".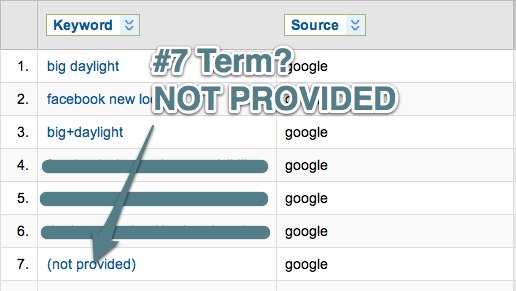 I'm not going to get into a long debate about the specifics of this since other brilliant individuals have already rehashed this at length. The main idea is that Google says they did this for privacy, when it's really about their bottom line. Users be damned.
Maybe it's my fault since I tend to read news from the online marketing community first, but I'd really like to know – why is this about SEO? Maybe this most data robbery is more relevant to organic traffic, but what's to say that the next hijack won't affect something different?
EVERY SINGLE GOOGLE ANALYTICS CLIENT is affected by this. EVERYONE should still be concerned. So why are we not seeing more outrage from the tech community in general about this?
It disturbs me that some people are actually gleeful about this, because it affects SEO analytics. Sorry people – this is also affecting YOUR analytics. Please go log into Google Analytics, and check out your top organic referring keywords from this past week. How do YOU like what you see? Come on – it sucks that now you can't tell what all of your organic referring terms are.
Whenever we use free tools, no matter how useful they may be, we put ourselves at the mercy of those providing them to us. We trust and hope they will keep our needs in mind – but Google just broke that trust. Organic keyword referral data is such basic, must-have information, it should honestly be included in some sort of Analytics Users Bill of Rights.
I hope others continue to speak out against this, across the entire community of users that depend on Google Analytics for trustworthy and comprehensive data.
I'm so disappointed that I was tempted to nofollow the above link to Google. But that would be petty.  We're better than that; I wish Google could be too.
Written by Sarah Mackenzie.