We're always on the lookout for companies and organizations that are using fun and effective social media strategies. For the past few days I've noticed an ongoing theme coming from the Facebook page of the JW Marriott Grand Rapids. Several times per day, the JW has been posting photos of its smiling employees accompanied by a short note about the subject(s). Here's an example: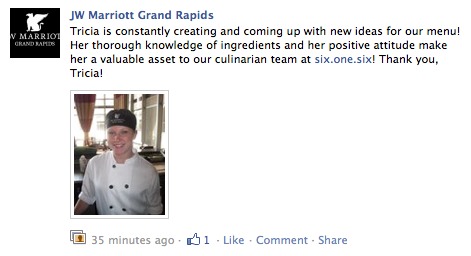 Has something similar been done before? Sure, it probably has. However, in the hospitality industry customer service is everything. You can have the nicest rooms or the greatest chef in the world, but if the guest has a bad experience they are very unlikely to return. Personal service makes a difference, and introducing your guests via your social media channels to the people who will be hosting them begins the service process even before the guest arrives at your property. Previous or regular guests can interact with a photo of a staff member they know with an anecdote or a simple "like."
And let's face it, this has to be great for morale in the workplace as well. It's a fun idea that also serves as a great way to give a quick pat on the back to your hardworking employees. If you're familiar with the hotel's general manager, George Aquino, you're probably not surprised.
George is a social-savvy veteran of the hospitality industry who has built a nice following for his excellent hospitality blog, My Hotel Life. Kudos to George and his staff for this fun way to extend personal service outside the walls of the JW Marriott Grand Rapids.
Have you seen another fun example of an organization using a personal touch with their social media presence? Let us know in the comments.
Written by Nick Nerbonne.