"Look both ways before you cross the street."
"Wear your seatbelt."
"Stop, drop, and roll."
"Eat your vegetables."
Since we were little, our moms have looked out for us by giving us little reminders meant to protect our well-being. Of course, these pieces of motherly advice weren't always followed, especially when it came to vegetables, but as we grew up, most of us probably realized they make sense.
Today I'm inspired to dispense some simple advice for social media managers: Look before you tweet.
Wednesday night while scrolling through my Twitter feed, which was busy with tweets from #debate2012 and Miguel Cabrera winning the triple crown, I saw a tweet about appliance manufacturer, Kitchen Aid. Someone with access to the @KitchenAidUSA Twitter account intended to tweet a wisecrack about Barack Obama's grandmother (who passed away just days before he was elected President) from their personal account after the President had mentioned his grandmother during the debate, but instead tweeted the messsage from the official Kitchen Aid account.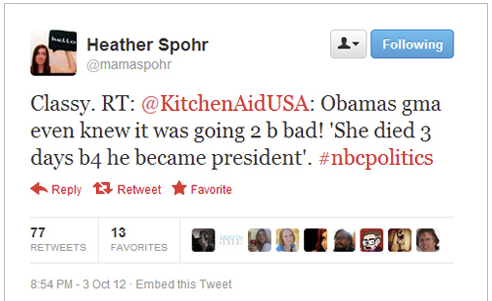 Screenshots of the tweet and RTs of RTs shot through the Twittersphere while the Presidential debate was still underway. Kitchen Aid quickly deleted the tweet and issued an apology.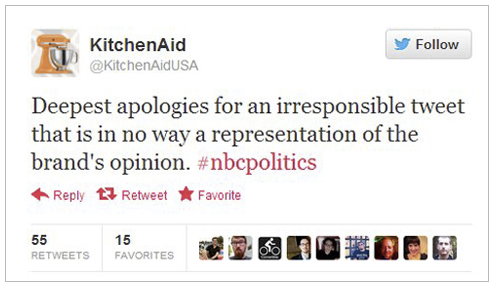 Later, Cynthia Soledad, who identified herself as "the head of Kitchen Aid," took to Twitter to issue a more lengthy apology, with one of her series of tweets addressing the President directly.

The backlash from the unfortunate tweet from "someone on the Twitter team" at Kitchen Aid continued Thursday, with virtually every major media outlet running a story.
As soon as I saw the tweet Wednesday night, I was immediately reminded of a few other social media gaffes that are forever engrained in social media lore. Do you remember these?
#GettingSlizzered with The American Red Cross
American Red Cross staffer Gloria Huang was excited when her boyfriend Ryan procured two 4-packs of one of her favorite craft beers. She tweeted about her plans to drink the beer, with the intention of informing her personal Twitter followers of her excitement. Unfortunately, her admitted difficulty with HootSuite resulted in the tweet being posted from the official American @RedCross account. Read the story from mashable.com.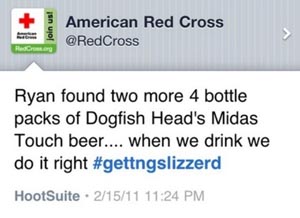 Dining Out in Salt Lake City
When an employee of Salt Lake City ABC affilliate, KTVX, decided to share his opinion of fellow diners at a downtown restaurant, he mistakenly shared the unflattering update from his employer's Twitter account. The tweet caused quite a stir in Salt Lake City, home to the headquarters of the Church of Jesus Christ of Latter Day Saints, or Mormon Church, eventually costing the employee his job. Read the story from socialtimes.com.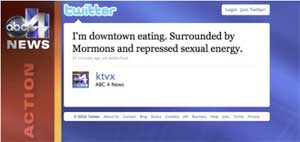 Motor City Driving with Chrysler Autos
A social media manager at an agency handling the @ChryslerAutos Twitter account had a rough commute to work one morning. Expressing his frustration with Detroit drivers via Twitter, the agency employee mistakenly tweeted an f-bomb from the client's account. Not only did the employee lose their job, the agency ended up losing the account. Read the story from jalopnik.com.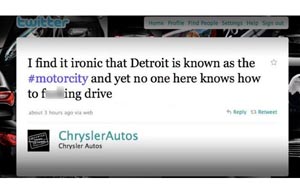 The moral of these stories? First of all, if you're fortunate enough to work with a major brand's social media presence, take a moment to consider the context of any message you share online, even if you're certain that it's coming from your personal account. Second, when you've finished writing your message, whether for a personal or business account, take an extra minute to read the post. Double-check the spelling and grammar. Consider the context of the message and make sure it fits with your audience. Before hitting "tweet," "post," or "submit," confirm the account you're posting from. In other words, look before you tweet. An extra minute or two is well worth avoiding a mistake.
Even better, consider using a separate Twitter client for your business and personal accounts. That way, you're eliminating the possibility of posting from the wrong account altogether. Will this latest incident with Kitchen Aid, or any of the above scenarios, cause you to re-think how you manage your social media activities? Let us know in the comments.