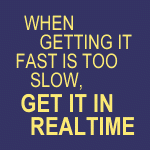 There's no denying that the web is getting faster. Connection speeds for home and business, and especially mobile are allowing consumers to get the data they want faster and quicker than ever before.  Online marketers are no different – we want our data.. and we want it NOW.  We spend a great deal of time in Google Analytics, our favorite (and free!) analytics program – which is great and provides us the tools we need to analyze and measure traffic, trends, and most importantly, ROI for our clients. But what if we wanted to see what was going on with the site right this moment? In the past, that wasn't possible.
Typically Google Analytics tracks and makes available the data up to 24 hrs later, so you're always looking at data that is essentially 24 hours behind. In most cases that's fine – but let's say that you're about to launch a new program with a big PR push and want to see how active your site is in real time? Google is slowly rolling out the ability to see this kind of data in "real time" and it's still very much in beta. (aren't all Google products these days?)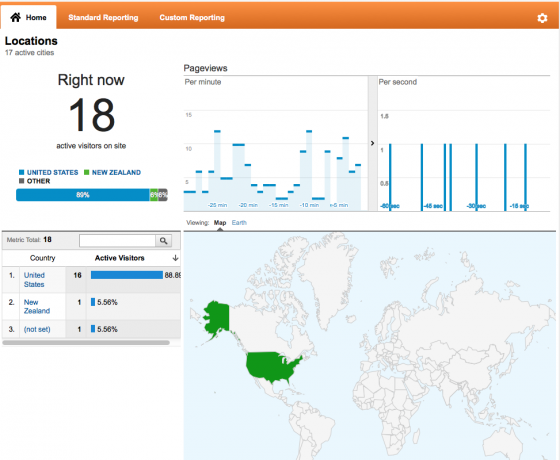 Previously, to see real time statistics like who's currently on your site, and from what keywords, etc  you would have had to use a product like Chartbeat. As interesting as this data is, it still has quite a ways to go to make it as useful as we'd like to see. We can't really call the current offering a comprehensive real time analytics program. You only get to view a couple pre-selected reports within the existing Google Analytics dashboard: Overview, Locations, Traffic Sources and Content. So for you e-commerce folks, you won't be able to measure conversions and revenue in real time.
To view your real time stats, you need to have the "new" version of Google Analytics enabled. You can do this by going to the top of your Google Analytics browser and selecting "New Version" at the top right. If you don't see the real time reporting once in the new version of Google Analytics, you can submit a request here.
Though in beta, and far from reaching is potential, the real time stats do offer a few benefits that currently you would have had to pay another third party service to get. Let's say for example that you're about to launch a great new product. You have your PR releases ready to go out, your Twitter and Facebook posts all lined up. Previously, you'd launch your initiatives, and wait the next day to see how the corresponding traffic was. Now, you can watch those visitors come in real time and see where they came from. It's a real time way of measuring which of those efforts are making the most impact.  For social media efforts, once you see the level of engagement slow down and the traffic also slowing down, it's a great indicator to help you reengage your audience and knowing when to do so.
We're excited to see what additional features Google Analytics adds to their current Real Time reports. We'd love to hear how you're using the real time analytics for your online marketing efforts.
Written by Nick Perez.